Junior sailors Connor Bennett, Ethan Sargent and Tor Svendsen got a taste of big-time competition when they recently competed in their first world championship regatta in the ICLA 6 at the Youth Worlds held in Houston, TX. Some two hundred kids from over thirty countries registered to race and in final results, Tor finished 52nd in Gold Fleet, while Ethan finished first in Bronze, just one point ahead of Connor.
The boys, who are StFYC members and St Francis Sailing Foundation grantees, headed off to Texas in good company: Julian Soto, one of the country's top Laser coaches, and Al Sargent, a regular competitor on the ICLA circuit (and Ethan's dad).  After collecting their charter boats, they tailored them with the gear that they brought from their boats back home. In ICLA regattas, most everything is chartered: the hull, mast, boom, daggerboard, and rudder which are standard components, while competitors bring their own sails, tiller, and lines since those tend to be more customized by each sailor.
Finally, boats were inspected to ensure that everything conformed to the strict ILCA rules that place an emphasis on the sailor and their skills, versus the quality of their equipment (note that the ILCA 6 is the medium-sized rig, with six square meter sail, bigger than the LCA 4 and smaller than the ILCA 7).
It was a hot, humid, very windy, and highly competitive regatta: overall, a grueling event as the local boys who raced attested. Day one was practice on Galveston Bay. Day two was a practice race, followed by a run to West Marine to upgrade control systems. Four days of racing followed, there was no sailing on day five due to lightning, and three races were sailed on day six.
At the conclusion of a three day "qualification series" where the sailors were randomly assigned to different fleets of about fifty-two boats each, competitors were then assigned to one of three fleets: Gold (top third), Silver (middle), Bronze (bottom third).
"It was good to make Gold Fleet and given it was my first World's, I was happy with my result," Tor noted. "It was a really windy regatta every day, six days of continuous hiking which was challenging. Many of the sailors competing were a lot bigger than me so I was struggling to keep up with them, but I was hiking hard and doing my best."
Connor and Ethan duked it out in Bronze fleet right up until the final race of the final day.
"Connor came out strong, scoring two bullets and putting him into first place in Bronze with an eight-point lead over Ethan, in second," Al Sargent said. "He had to only finish 13th or better in the last race. In the last race, Connor and Ethan were close to each other, but then Connor capsized, netting him a 14th place finish in the last race to Ethan's 5th place."
Ethan Sargent, who has competed in the ICLA for the past four years commented, "It was the most competitive regatta in which I've competed, everyone was on their game and there was not one bad sailor."
Commenting on what he learned from racing with the best, Svendsen noted that physical fitness is key to sail the Laser at a high international level.
"I have lots of work to do on my fitness game," he said, "and I also learned a lot about competing in big competitive fleets and how important being consistent is. You really must be big and strong, have endurance and hike really hard. You also have to be quick downwind. There were a lot of speed gains to be made downwind just because the waves were pretty big but there were also opportunities to overtake – if you were overtaking in waves successfully downwind then you could make a lot of gains. Also, starting in a big fleet on a crowded line you have to be really confident in your boat-handling as well as your acceleration and speed off the line."
The boys also learned the importance of drinking plenty of water and eating properly given the heat and humidity, as temperatures throughout the regatta were in the high nineties, and winds consistently in the teens.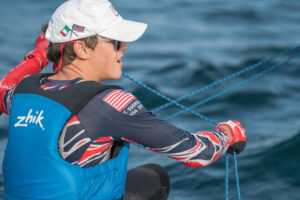 "On land it was really hot, and you just had to stay hydrated and fueled," Tor commented. "The competition was tough, but I learned a lot and just had a lot of fun just racing. We got to meet a bunch of people from around the world and from around the US which was really cool."
On October 13, support clinics like the ODP, as well as talented sailors from all backgrounds who are working hard to follow their dreams, at St Francis Sailing Foundation's Annual Auction event. Tickets are limited: be sure NOT to miss out and book online today at https://www.stfsf.org/.
The largest contribution to the Foundation came from the estate of member and Staff Commodore Tom Allen in his trust. Please consider a tax-deductible gift to the St. Francis Sailing Foundation in your will or trust. If you or your attorney needs information, call Treasurer Greg Meagher at 510-541-2543.
Results: https://jpvm.org/results/2022/ILCA6_Youth/results.htm
Photos: https://2022ilca6youth.ilca-worlds.org/photos/
Feature Image: (L to R) Tor Svendsen, Ethan Sargent, Connor Bennett / Credit Al Sargent
Other Images: Credit Event Photographers