The largest regatta of the year for Olympic athletes is the 2023 Sailing World Championships which kicks off August 11 in The Hague (Netherlands). It's a massive event mentally and physically for the sailing athletes competing as it's the first opportunity to qualify the USA in each Olympic class for the Paris 2024. Photo: Hans Henken/Ian Barrows.
Among those participating is a large group of St Francis Sailing Foundation grantees including Louisa Nordstrom/Trevor Bornarth and Stu McNay/Lara Dallman-Weiss (Mixed 470), Ian Barrows/Hans Henken (49er), Stephanie Roble/Maggie Shea (49er FX ), Erika Reineke and Charlotte Rose (ILCA 6), Chapman Petersen (ILCA 7), Kai Calder and Markus Edegran (Men's Formula Kite), Daniela Moroz (Women's Formula Kite), and Sarah Newberry Moore/David Liebenberg (Nacra 17).
At the Paris 2024 Test Event held in July in Marseille, France, Moroz secured both a bronze medal and her nomination to Team USA. She's previously won six World Championship titles and hopes to qualify the USA for a Paris 2024 spot at the Worlds. The competition is working her hard this year with rivals Lauriane Nolot (France) and Eleanor Aldridge (UK) performing at the top of their games taking first and second places consecutively at the Test Event. Moroz nonetheless remains positive.
"It was exciting to be racing at the Olympic venue for next year; I think Marseille is a very technical venue," she said. "It requires a lot of time on the water because every day is so different and such a challenge in different ways, so it was good to train there for five weeks training before the Test Event."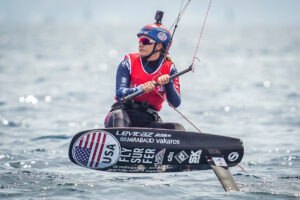 Moroz commented that the racing was challenging as was to be expected, noting that competitors experienced almost every Marseille wind direction possible from a small mistral to a sea breeze, to offshore breeze; a solid platform to work through moves in all conditions.
"In Marseille I felt like I had good speed most of the time but sometimes I made mistakes with strategy execution especially my starting strategy, so I was struggling to put everything together to get a solid regatta," Moroz said. "I'm trying to keep my confidence up and I know I am capable of winning regattas and races. We're working a lot on starts and boat speed – it's no secret that boat speed makes you a tactical genius! It's important to be fast in order to execute your strategies."
Moroz is also excited to have formed a solid training group for the winter; she'll collaborate with the Kiwis which she believes will be a big aid to her campaign.
"It's a nice and supportive group of people which was important for me to find because I felt like I wouldn't be able to get that from other people – it's such a cut-throat environment the closer you get to the Olympics – people will grow apart from their training partnerships going into the Games whereas I feel like this is a strong long-term partnership where I really trust the people to help me while they work hard to improve themselves and I can help them."
Henkens and Barrows came out of the Test Event in sixth place. They sailed a good series and went into the medal race two points from the podium, proving to themselves that they are a team more than capable of winning an Olympic at the Paris Games while recognizing areas to improve on at the Worlds this week.
"The past two World Championships we finished 4th and 11th," Henkens said. "They were both good results, but we are still looking for that break through event to get us on the podium at a major event. Consistency is everything for us, if we focus on staying within our routine and doing the small fundamental things right – clear communication around the racecourse, making sure to take advantage of the easy opportunities, staying within lay lines, starting with space on the line, choosing good times to tack and gybe – I know we will be in it when the end of the regatta comes around."
Henken added that The Hague is a challenging venue not only because it's very shifty when it comes from the shore, but it's a huge tidal venue.
"The current is going to be a huge factor in the racing and getting that aspect right will go a long way to making moves up the leader board," he said. "It's clear that anyone can do well right now in the 49er fleet. It's incredibly competitive. At the last two events in Hyeres and Marseille there were seven teams in the medal race all within four points of each other looking to finish on the podium. It's all bow-to-bow racing and every point matters. We are in the mix and it's right where we want to be."
World Championship Event website: https://allianzsailingworlds.com
Entry list: HERE
Tracking: HERE
Note: Any American can qualify the USA for spots in Paris, not just US Sailing Team members.
Photo credit: US Sailing