Lucy Wilmot and Erika Reineke are campaigning the 49er FX with an eye to Paris 2024. The pair, who have just returned from competing at the 2021 49er FX Worlds in Al Mussanah, Oman, their first major international event, report on their experience. 
On October 31st, we traveled halfway across the world to Al Mussanah, Oman to sail with top-level teams in the fleet. We are proud to complete our first major international regatta together and have the opportunity to represent the United States abroad. After a hard-fought week of racing, we finished in 20th.
Arriving at the regatta feeling prepared took months of organization and work. Unloading a new boat at the championship for the first time, we knew our pack list was going to be extensive. Putting together a new toolbox, flying with two complete sets of sails and mast, was no easy feat. We spent two and a half days unloading the container, equipping the hull with our customized rigging, and stepping the mast before we hit the water for the first time. Once we launched the boat in Oman's beautiful crystal clear waters, it was completely worth the effort.
Overall, we suffered from a major upwind speed deficit throughout the regatta. The lack of pace made it difficult to accelerate off the starting line, hold a lane, trim the sails correctly, and balance our weight. These issues stemmed from many sources including unfamiliarity with new gear, mast bend inconsistencies, and outlier readings on the wire tension gauge. Despite these problems, we never gave up on trying to find answers.
Before and after each race, we tried different adjustments based on our hunches about how the boat felt and what could be inhibiting it from gliding through the water. Many evenings post racing, we stayed on the water and played with the rig, controls, sail trim, and technique yet the boat still struggled to release upwind. Determined to get to the crux of our speed issue, on two occasions a safety boat came up and told us to return ashore. When we came in, all the other FX's were long gone and back in the boat park spots.
Continually searching for answers, we were down at the boat park before sunrise and after sunset. One morning, we took our mast section apart and reassembled to see if the mast alignment may be off. Another morning, we ran through our rig setting progressions to re-test its bend characteristics and found the mast was bending in a different location. On multiple nights, we stood over our boat with flashlights trying to troubleshoot why the lower mast section was so stiff despite having trained on it all summer.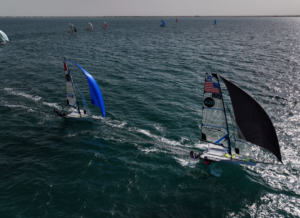 Post racing on the final day of the event, we were still determined to find a solution. We took measurements of the hull fittings and their positions to gather data points to compare to our hull in the US. Our American teammates were also helpful in lending their equipment for measurement sake in order for us to get to the bottom of our speed deficit. Another day went by and again we were the last 49er to de-rig our boat in an attempt to understand why the hull felt stuck in the water. We came home knowing we fought every moment to find a solution.
Looking back, this was an incredible learning experience and it highlighted an area we were not well versed in. Though we arrived at the event organized and prepared, we were ultimately unprepared to deal with the set-up and tuning differences associated with a new hull. We found that we couldn't trust the tuning guide we had worked hard to put together over the last year because it wasn't eliciting similar sail shape or mast bend properties. This problem became even more exacerbated in overpowered conditions when we found ourselves in unknown territory due to the lighter conditions we experienced in the lead up to the championship.
Though this was an extremely tough lesson to go through, especially at a World Championship, there is never a bad time to learn something new. We now realize the equipment we compete on needs to be trained on with enough time to ensure it performs consistently throughout a range of wind conditions. While we had limited equipment options to get to this event which led to the decision of purchasing a new boat, we will be more calculated in our equipment changes going forward.
Still to be noted, there were many positive regatta moments that we are extremely proud of. This was the first time we had lined up with so many boats on the starting line. Excited to put our bow in the mix, we took advantage of the situation by working on starting line maneuvers and positioning. Upwind, we focused on racecourse communication and streamlining our decision making process. Downwind, we consistently improved at defending our position on the headed gybe. Additionally, we were exceptionally fast downwind and sharpened our skills at owning the final layline.
Perhaps the most significant positive from the event was working through these challenging circumstances together. Constantly problem solving, debriefing tough moments, and strategizing our next move was difficult. Working together and approaching the speed issue objectively, our team learned something new each day and ultimately came away from the event with a ton of incredible takeaways. Looking forward, we are excited to implement these new findings into our winter training and spring racing.
We are grateful to have our friends and supporters along with us on this journey! Your cheers and words of encouragement mean the world to us and we are proud to represent the United States of America. Thank you Luther Carpenter, for providing us with coaching during the event. Alison Chenard and Kate Drummey, thank you for media coverage and shipping support in Oman. Thank you to Micah Kush and Force Physical Therapy for keeping our bodies strong during the event. Easom Rigging and Racing, we can not thank you enough for helping outfit all the rigging lines on our new hull. Thank you to all the incredible sailing foundations who continue to support US Olympic hopefuls: Belvedere Cove Foundation, Richmond Yacht Club Foundation, St Francis Sailing Foundation, and Skiff Foundation. Lastly, thank you to all the coaches who have not only worked with us but have also believed in us this past year: Willie McBride, Erik Bowers, Hans Henken, and Jorge Lima.
Happy Holiday and GO TEAM USA!
Images: Courtesy Wilmot / Reineke